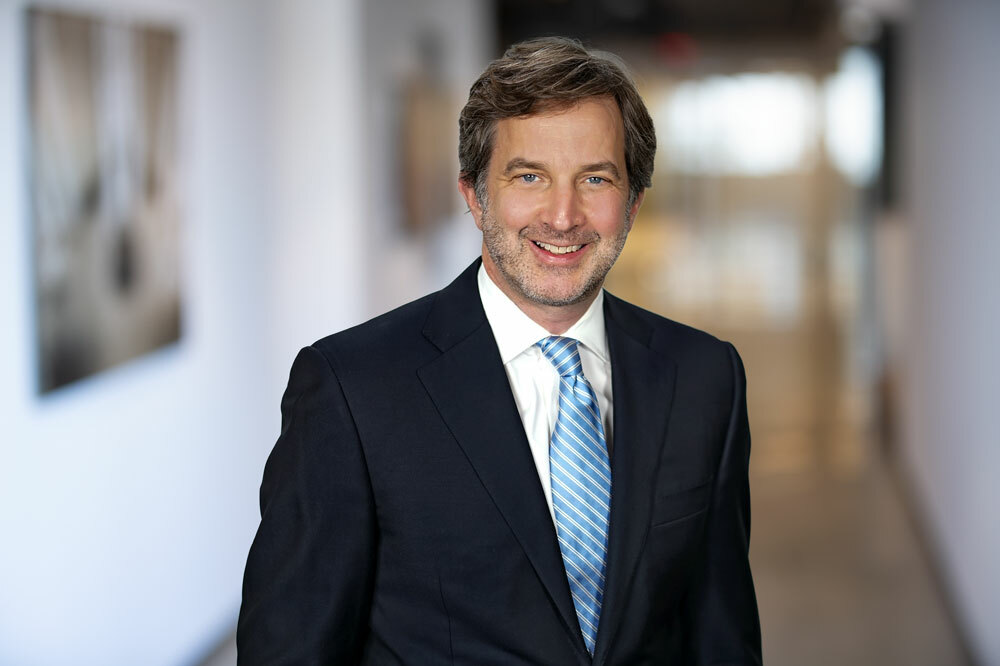 "It takes skilled counsel to successfully manage an 18,000-plus member class action. It takes a different set of highly developed skills to successfully achieve a jury verdict…. Class counsel persisted in a case where the defendant contested nearly every issue. Against this backdrop, Class Counsel achieved an excellent result on behalf of the class."
Krakauer v. DISH Network, L.L.C., 2018 WL 6305785, *3 (M.D. N.C., Dec. 3, 2018)
Overview
John Barrett is among a handful of lawyers nationally to have won class action, mass action, and individual plaintiff jury trials in federal and state court, and successfully argued appeals to uphold verdicts won in those cases. John represents consumers in class action lawsuits brought under federal telemarketing laws (TCPA), consumer protection statutes, and consumer warranty laws.
John's creative, trial-focused approach has helped win over $200 million for consumers in class action litigation. Most recently, John was co-lead trial and lead appellate counsel in a first-of-its-kind TCPA class action lawsuit resulting in a $61.3 million trial judgment, with complete affirmance on appeal, which John argued before the Fourth Circuit.
In the last five years, John has led efforts to recover more than $130 million in TCPA class actions; co-led the team in securing an unprecedented product liability class action settlement against a Brazilian pistol manufacturer ($30 million in cash, and warranty modifications valued at over $200 million); and served as special assistant attorney general recovering over $10 million for violations of West Virginia consumer protection law.
John especially values his relationships with referring co-counsel throughout the country. He also serves as President of Bailey Glasser.
Awards & Accolades
Best Lawyers in America, Mass Tort Litigation / Class Actions – Plaintiffs (2020-2024)
Super Lawyers, West Virginia, Class Action/Mass Torts, Consumer Law (2021-2023)
Fellow, Litigation Counsel of America (2018-present)
Fellow, West Virginia Bar Foundation (2018)
AV rated by Martindale-Hubbell
Clerkships
Law Clerk, Hon. Charles H. Haden II, Chief U.S. District Court Judge, Southern District of West Virginia (1996 - 1998)
Government Service / Previous Employment
Executive Director, Common Cause West Virginia (1990 - 1993)
Practice Areas
Education
J.D., Boston University School of Law, 1996, cum laude, Edward F. Hennessey Distinguished Scholar, Exec. Editor, Public Interest Law Journal, Dean's Scholar in Labor Law
B.A., University of Pennsylvania, 1988
Admissions
West Virginia
Massachusetts
U.S. Supreme Court
U.S. Court of Appeals for the Fourth Circuit
U.S. Court of Appeals for the Sixth Circuit
U.S. Court of Appeals for the Eleventh Circuit
U.S. District Court, Northern District of West Virginia
U.S. District Court, Southern District of West Virginia
U.S. District Court, Eastern District of Michigan
U.S. District Court, Western District of Michigan
U.S. District Court, Northern District of Illinois
Supreme Court of Appeals of West Virginia
Experience
Case Studies
Representative Matters
Won a five-day jury trial and a treble damages award from the court, resulting in $61.3 million judgment against DISH Network for thousands of telemarketing calls placed to numbers on the National Do Not Call Registry in violation of the TCPA; co-led the trial team, and argued the appeal resulting in a complete affirmance by the U.S. Court of Appeals for the Fourth Circuit; the case was featured in the Wall Street Journal and the CBS Evening News.
Won a $28 million TCPA settlement for a nationwide class of consumers who received alarm-system telemarketing calls in In re Monitronics; lawsuit featured on NBC's Today Show; served as co-lead MDL counsel.
Settled a TCPA class action for $28 million in Hankins v. Alarm.com for nationwide class.
Won a TCPA class action settlement of $11 million in Mey v. Frontier Communications.
Won a precedent-setting product liability class action against a Brazilian pistol manufacturer; the settlement provided for a free exchange of defective pistols for new, nondefective pistols, unlimited by any claims period; cash payments of $30 million, and total settlement value of $240 million. The case was featured in Newsweek magazine.
Won a $3.7 million settlement in TCPA class action against Patriot Payment Group and North American Bancard.
Resolved a TCPA class action against Venture Data, LLC for $2.1 million.
Appointed special assistant attorney general in a series of parens patriae actions against retail pharmacies, generating more than $10 million; argued and won related appeal in West Virginia v. CVS Pharmacy, Inc.
Co-led mass action cases to successful jury verdict in a six-week trial for hundreds of West Virginia residents against coal companies, alleging novel legal theory that the companies violated state mining laws when they destroyed residents' groundwater supplies.
News & Insights
News & Insights
Selected Speaking Engagements
"You've Got Your Class Action Verdict - Now What? Getting to Final Judgment and Beyond," Mass Torts Made Perfect, Class Action Track, Las Vegas, October 2019
"Class Action Ethics," American Association for Justice (AAJ), 2019 Annual Convention, San Diego, July 2019
"Ethical Issues Unique to the Consumer Space," Practising Law Institute, 23rd Annual Consumer Financial Services Institute, New York (March 2018); Chicago (May 2018); San Francisco (June 2018)
"Introduction to Raising and Litigating TCPA Claims," National Consumer Law Center, Fair Debt Collections Practices Act Conference, Chicago, March 2018
"Getting to Judgment in TCPA Cases," National Consumer Law Center, Fair Debt Collections Practices Act Conference, Chicago, March 2018
"Hot Topics in Ethical Class Action Practice," National Consumer Law Center, Class Action Symposium, Washington, DC, November 2017
"Introduction to TCPA Litigation, Maximizing the Value of Individual TCPA Cases," National Consumer Law Center, 26th Annual Consumer Rights Litigation Conference, Washington, DC, November 2017
"TCPA Litigation," Practising Law Institute, 22nd Annual Consumer Financial Services Institute, Chicago, March 2017
Community & Professional
Community and Professional Activities
Chair, Development Advisory Group, Legal Aid of West Virginia
Trustee, University of Charleston
Member, Visiting Committee, West Virginia University College of Law
Treasurer, Smith for West Virginia Governor 2020
National Association of Consumer Advocates
West Virginia and American Associations for Justice
Public Justice
Member, Trial Law Institute
Member, Diversity Law Institute