US Small Business Administration Announces Shuttered Venue Operators Grant Program to Open April 8
03.24.2021
The US Small Business (SBA) recently announced that it will begin accepting applications for the Shuttered Venue Operators Grant (SVOG) program beginning April 8, 2021. The applications will be accepted in three phases:
| | | |
| --- | --- | --- |
| Priority | Dates | Revenue Loss |
| First Priority | April 8 to April 21 | Entities that suffered a 90% or greater revenue loss between April 2020 through December 2020 due to the COVID-19 pandemic. |
| Second Priority | April 22 to May 5 | Entities that suffered a 70% or greater revenue loss between April 2020 through December 2020 due to the COVID-19 pandemic. |
| Third Priority | Beginning May 6 | Entities that suffered a 25% or greater earned revenue loss between one quarter of 2019 and the corresponding quarter of 2020. |
In the news release, the SBA highlighted the launch of its SVOG portal website. Venue operators and other entities, such as talent representatives, interested in applying for an SVOG grant can sign up to receive email notifications directly from the SBA by going to the landing page here. Beware of potential scammers and make sure you only work through the SBA's official SVOG portal.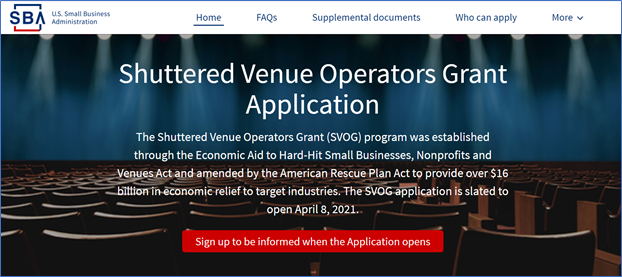 On Tuesday, March 30, 2021, beginning at 2:30 p.m. (EDT), the SBA will host a free national informational webinar to highlight the application process for potentially eligible entities. Live venue operators or promoters, theatrical producers, live performing arts organization operators, museum operators, motion picture theatre operators, and talent representatives interested in participating can register here. Bailey Glasser will participate in the SBA sponsored webinar.
Additionally, Bailey Glasser will conduct its second SVOG presentation on Friday, April 2, 2021, beginning at 1:00 p.m. (EDT), to answer your SVOG related questions. You can contact us here to sign up for this interactive Zoom presentation. Please submit your questions in advance and we will do our best to answer them during the presentation. Our previous SVOG webinar is available here and our previous bulletins related to the SVOG are available here and here.
In the meantime, those who are interested may want to take some time to review the SBA's Preliminary Application Checklist.
Lawyers
Practice Areas
Get Updates From Bailey Glasser