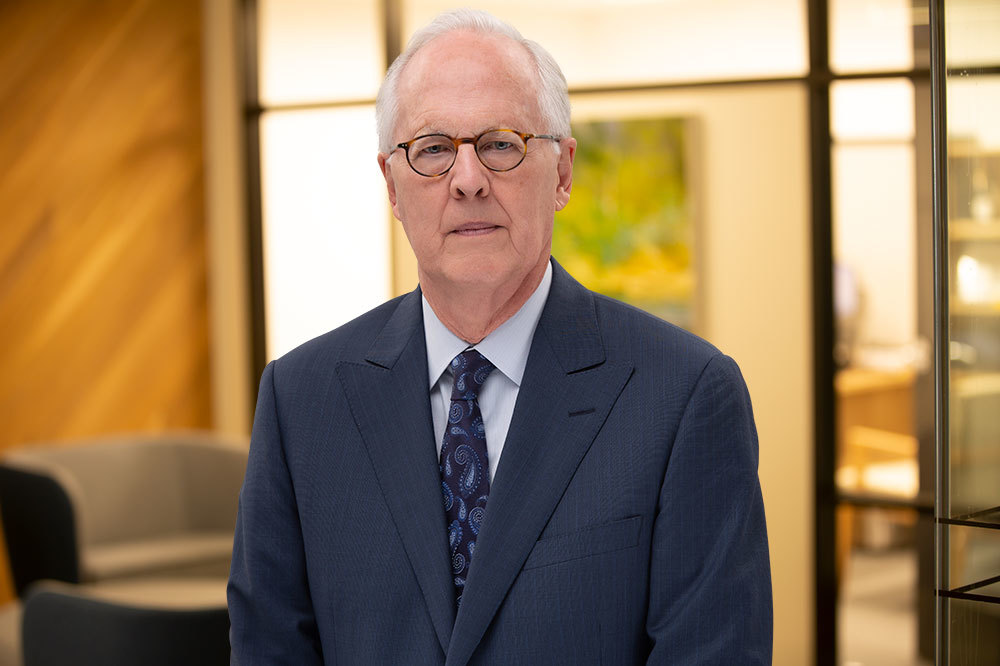 Of Counsel
Hon. Thomas
B.
Bennett (ret.)
Overview
The Honorable Thomas B. Bennett (Ret.) focuses his practice on insolvency and bankruptcy matters. Judge Bennett was appointed a U.S. Bankruptcy Judge for the Northern District of Alabama in June 1995 and Chief U.S. Bankruptcy Judge in January 2011. During his tenure, he presided over the Jefferson County, Alabama bankruptcy, at the time the largest municipal bankruptcy ever filed, and second today only to Detroit's bankruptcy case.
In 2013, Judge Bennett was inducted as a Fellow in the American College of Bankruptcy, for his professional excellence and exceptional contributions to the fields of bankruptcy and insolvency.
He is an accomplished author and writes on a range of issues including bankruptcy and debtor/creditor rights, commercial law topics, theories of lender liability, and litigation issues such as evidence and rules of civil procedure.
Judge Bennett's services performed out of the Washington, D.C. office are limited to mediation, arbitration, and expert witness engagements.
Awards & Accolades
Fellow, American College of Bankruptcy
Clerkships
Law Clerk, Hon. John R. Brown, U.S. Court of Appeals for the Fifth Circuit (1976 - 1977)
Government Service / Previous Employment
Chief U.S. Bankruptcy Judge for the Northern District of Alabama (2011 - 2015)
U.S. Bankruptcy Judge for the Northern District of Alabama (1995 - 2015)
Special Assistant Attorney General for the State of West Virginia (1979 - 1990)
Practice Areas
Education
J.D., West Virginia University College of Law, 1976, Member of Moot Court Board, Order of the Coif
M.S., Economics, West Virginia University, 1972
B.S., Economics, West Virginia University, 1970
Admissions
West Virginia
Texas
U.S. Court of Appeals for the Fourth Circuit
U.S. Court of Appeals for the Fifth Circuit
U.S. Court of Appeals for the Eleventh Circuit
U.S. District Court, Eastern District of Texas
U.S. District Court, Southern District of West Virginia
Supreme Court of Appeals of West Virginia
Supreme Court of Texas
News & Insights
News & Insights
Selected Publications
"Bloomberg Law: Bankruptcy Treatise," Chapters 133-136, December 2014
"Fraudulent Transfers/Conveyances, Preferences, Subordination, and the Impact of Insider Status," Eastern Mineral Law Special Institute on Bankruptcy in the Mining and Oil and Gas Industries, November 1991
Selected Speaking Engagements
"Municipal Restructuring" DelMorgan & Co.'s M & A, Restructuring & Corporate Finance Group, Webcast, June 2019
"Pension Reform in Practice,"JEP Symposium on Economics & Law of Public Pension Reform, Arlington, Virginia, February 2018
"CFPB Amended Mortgage Servicing Rules," Financial Services Summit, Bankruptcy Issues Facing the Financial Services Industry, Nashville, February 2018
"Five Myths of the Municipal Bankruptcy Monolith," 33rd Annual Conference of Association of Insolvency & Restructuring Advisors, Dallas, June 2017
"Cities that Cope--Confronting Financial Challenges in the Urban Landscape," University of Maryland Law School Symposium, Baltimore, March 2017
"Professional Employment and Professional Compensation in Bankruptcy Cases," 10th Annual Southwest Regional Conference of the Turnaround Management Association, Austin, May 2016
"What Should Be Done About Puerto Rico," Congressional Civil Justice Caucus Academy, Washington, D.C., May 2016
"The Future of Chapter 11," Commercial Law League of America, Chicago, April 2016
"Pension Reform in Practice," Judicial Symposium on the Law and Economics of Public Pension Reform, Law and Economics Center of George Mason University School of Law, Charleston, South Carolina, March 2016
"Modern Municipal Restructurings: Puerto Rico & Beyond," Duke University School of Law, Durham, November 2015
"Hot Topics in Municipal Bankruptcy" Dentons US LLP, Chicago, November 2015
"Hot Topics in Municipal Bankruptcy" Dentons US LLP, New York, October 2015
"Municipal Bankruptcy and Insolvency," Sustainable Government Study Group, Pew Charitable Trusts, Washington, DC, September 2015
"Priority of Attorney Fees in Chapter 13 Plans, Small Business Bankruptcies," National Association of Chapter Thirteen Trustees, Salt Lake City, July 2015
"Municipal Bankruptcy: Perspectives From Either Side of the Bench," National Association of Public Pension Attorneys, Austin, June 2015
"Municipal Finance Restructuring," New York Federal Reserve and United States Treasury Program, New York, April 2015
"Problems with Legal Analysis as Taught in Law Schools," University of California-Los Angeles (UCLA) School of Law, Los Angeles, April 2015
"Modern Municipal Restructurings: Puerto Rico and Beyond," Boston University School of Law, Boston, March 2015
"Cram Down Interest Rates," American College of Bankruptcy 11th Circuit Program, Washington, DC, March 2015
"Through the Looking Glass: Municipal Bankruptcy Compared to Chapter 11," Mississippi Bankruptcy Conference, Inc., Jackson, Mississippi, December 2014
"Municipal Bankruptcy Issues," Mid-South Commercial Law Institute, Nashville, December 2014
"One City at a Time: The Role and Increasing Presence of Chapter Nine Municipal Bankruptcies," Campbell University School of Law: Law Review Symposium, Raleigh, North Carolina, October 2014
"Municipal Bankruptcies: Views from the Bench," Georgetown University Law Center and American Bankruptcy Institute, Washington, DC, October 2014
"Municipal Bankruptcy," Hudson Valley Bankruptcy Bar Association, Hyde Park, New York, September 2014
"Municipal Bonds in Chapter 9," American College of Bond Counsel Colloquium, Chicago, September 2014
"Municipal Bankruptcies," Federal Judicial Center Workshop for Bankruptcy Judges, Boston, August 2014
"Municipal Finance Distress Can Have Dire Consequences on States," National Conference of State Legislatures, Minneapolis, August 2014
"Bankruptcy at the Beach," Municipal Bankruptcies, Alabama State Bar Association Destin, Florida, June 2014
"Chapter 9 Municipal Bankruptcies," American College of Bankruptcy Fifth Circuit Program, New Orleans, May 2014
"Municipal Bankruptcies," Judicial Conference of the United States Court of Appeals for the Third Circuit, Hershey, Pennsylvania, May 2014
"Municipal Bankruptcies," 8th Annual Turnaround Management Association Southwest Regional Conference, Austin, April 2014
"Municipal Financial Distress: The Problem and Solutions," Widener University School of Law Symposium, Harrisburg, Pennsylvania, April 2014
"Municipal Bankruptcies," American College of Bankruptcy, Washington, D.C., March 2014
Community & Professional
Community and Professional Activities
State Bar of Texas
West Virginia State Bar
National Conference of Bankruptcy Judges
Birmingham Bar Association
American College of Bankruptcy