Bailey Glasser Newsletter - Holiday News & Insights
12.21.2021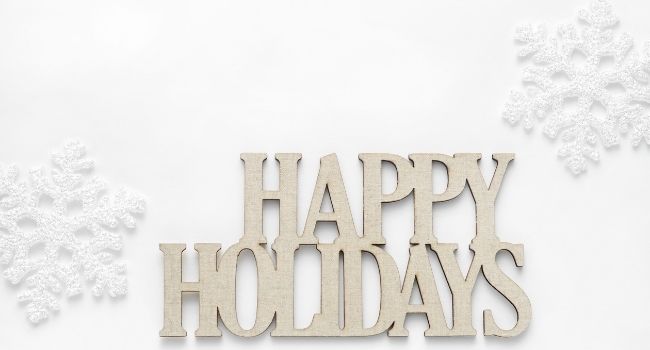 As we conclude a momentous, challenging, and successful year, this holiday edition of our Bailey Glasser newsletter contains recent news and insights, as well as a reflection on some highlights from the past year. As we celebrate courtroom and corporate victories, new colleagues, and contributions to our communities, this newsletter is best enjoyed with a holiday beverage, warm or cold. All of us here at Bailey Glasser wish you and yours a happy and healthy holiday season.
This month's newsletter includes:
Welcome Aboard: New additions to the firm this autumn include partner D. Todd Mathews, of counsel Bart Cohen, and associates Elizabeth Stryker and Isabella Anderson.
A Year in Pictures: A small montage of our vibrant year, including how we gave back to our communities.
News, Alerts, and Articles: Remote work considerations, Title IX op-ed in Sportico, discovery matters in Bloomberg News, and much more.
New Elevations: Nick Johnson is named equity partner, and seven lawyers are promoted to partner.
Protecting Student-Athletes: BG continues to protect student-athletes, this time at Dickinson College.
Thanks for the Memories: Saying goodbye to Larry Groce at NPR's Mountain Stage.
Plus: Webinar replay of our two-part series on raising business cash: "Raising Capital & Staying Compliant: It's Not Easy Being Green" and new videos about our capabilities.
---
Meet Our New Lawyers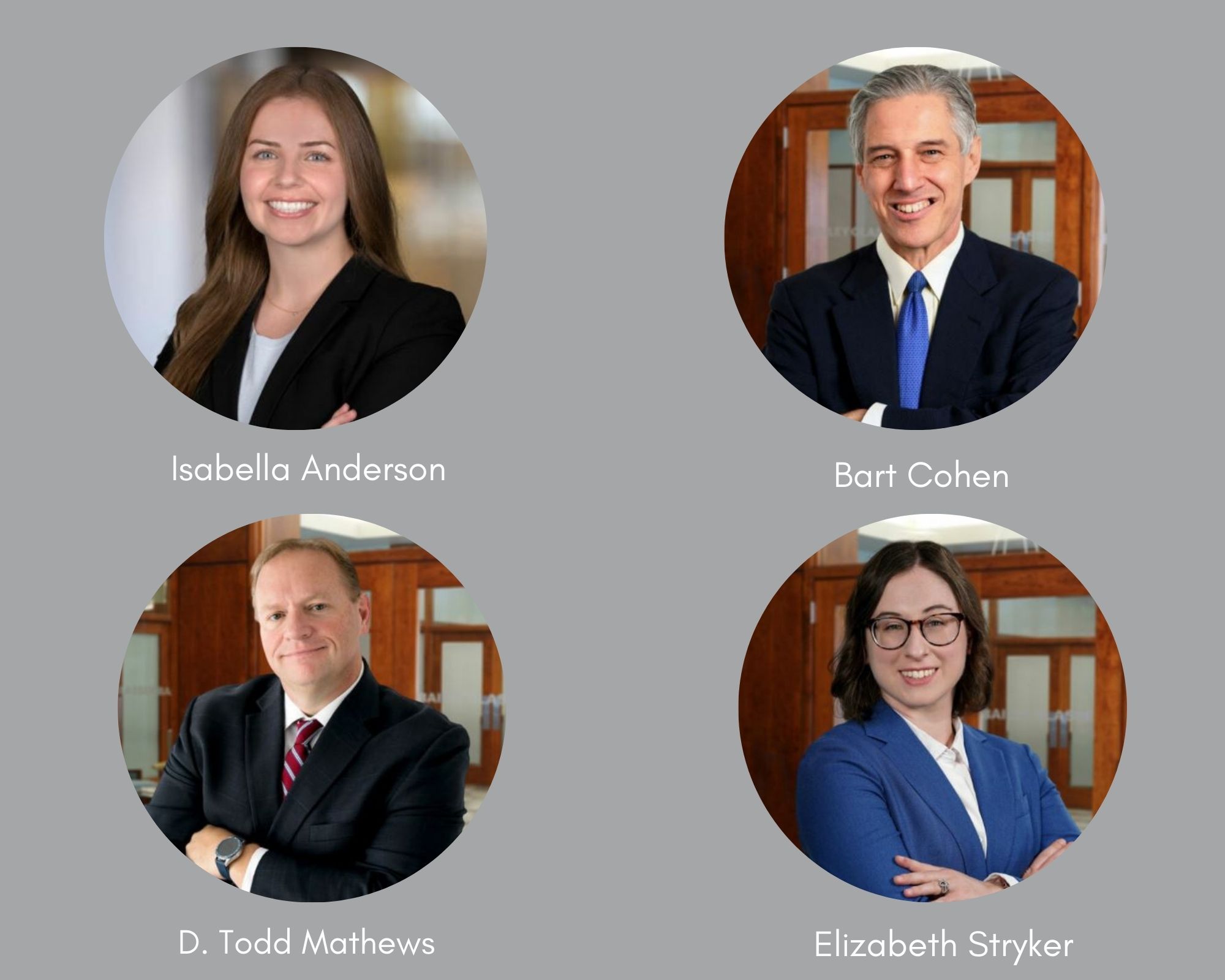 We are pleased to announce the addition of four new lawyers to our national practice:
Isabella Anderson joins the firm as a lawyer in Bailey Glasser's consumer litigation group and is located in our Charleston, WV office. Isabella handles individual and class actions involving consumer finance, TCPA violations, defective products, and a host of other consumer and employment matters.
Bart D. Cohen joins our Philadelphia office as of counsel handling complex litigation. Bart is a second-generation attorney, first inspired to become a lawyer by his father (who has been practicing for over 60 years), and now inspired by pursuing truth and justice on behalf of his clients.
D. Todd Mathews joins our St. Louis office as a partner. During the past two decades, Todd has secured numerous multi-million dollar trial verdicts and settlements on behalf of his clients, successfully representing plaintiffs nationwide across product liability, personal injury, employment, sexual abuse, class action, mass tort, and whistleblower cases.
Elizabeth L. Stryker joins our Morgantown, WV office as an associate, where she represents victims and their family members whose lives have been impacted by severe or catastrophic injury or death. She has a legal background steeped in developing winning litigation strategies, skills she sharpened both as an advocate for her clients and as a former judicial clerk.
---
2021 in Pictures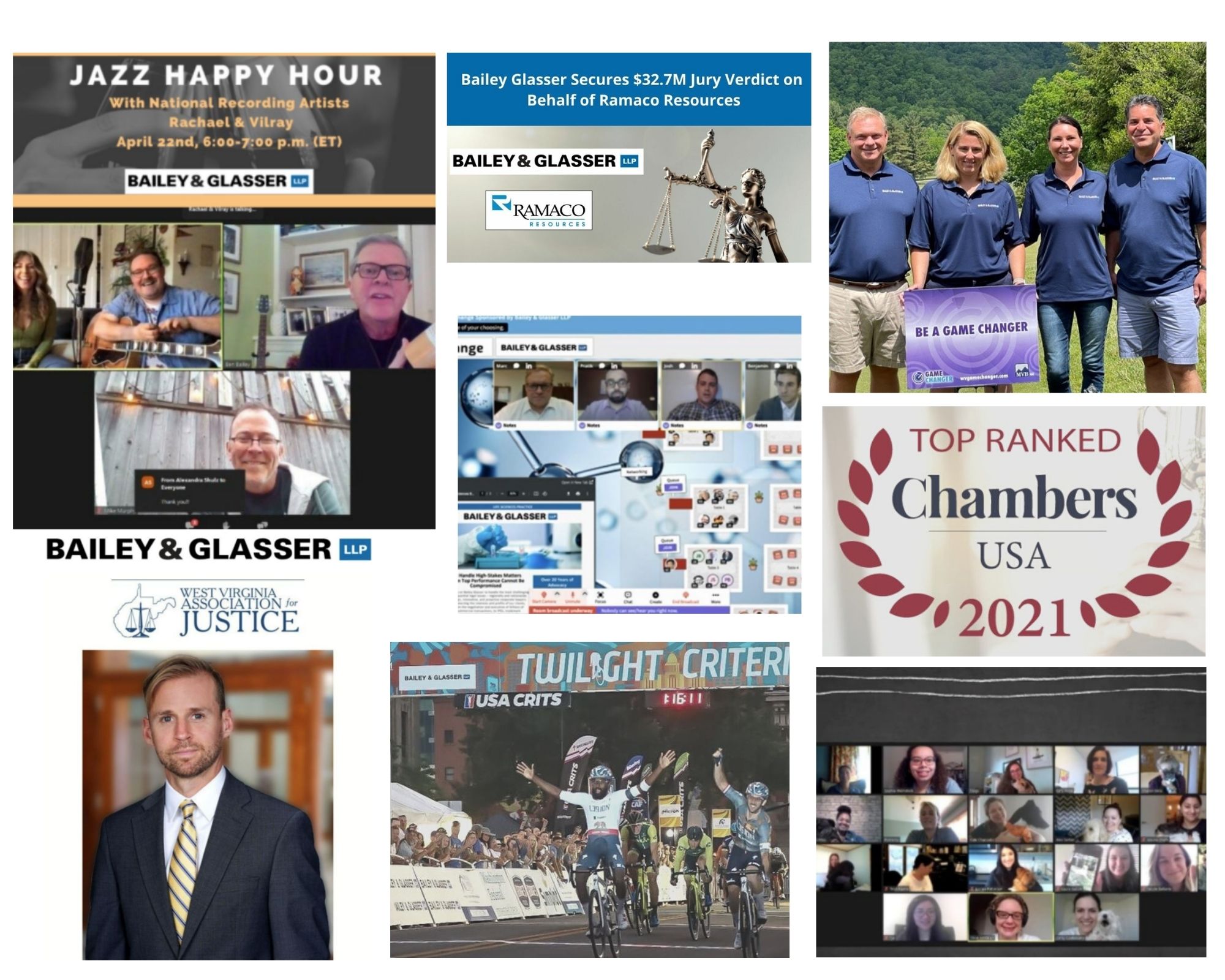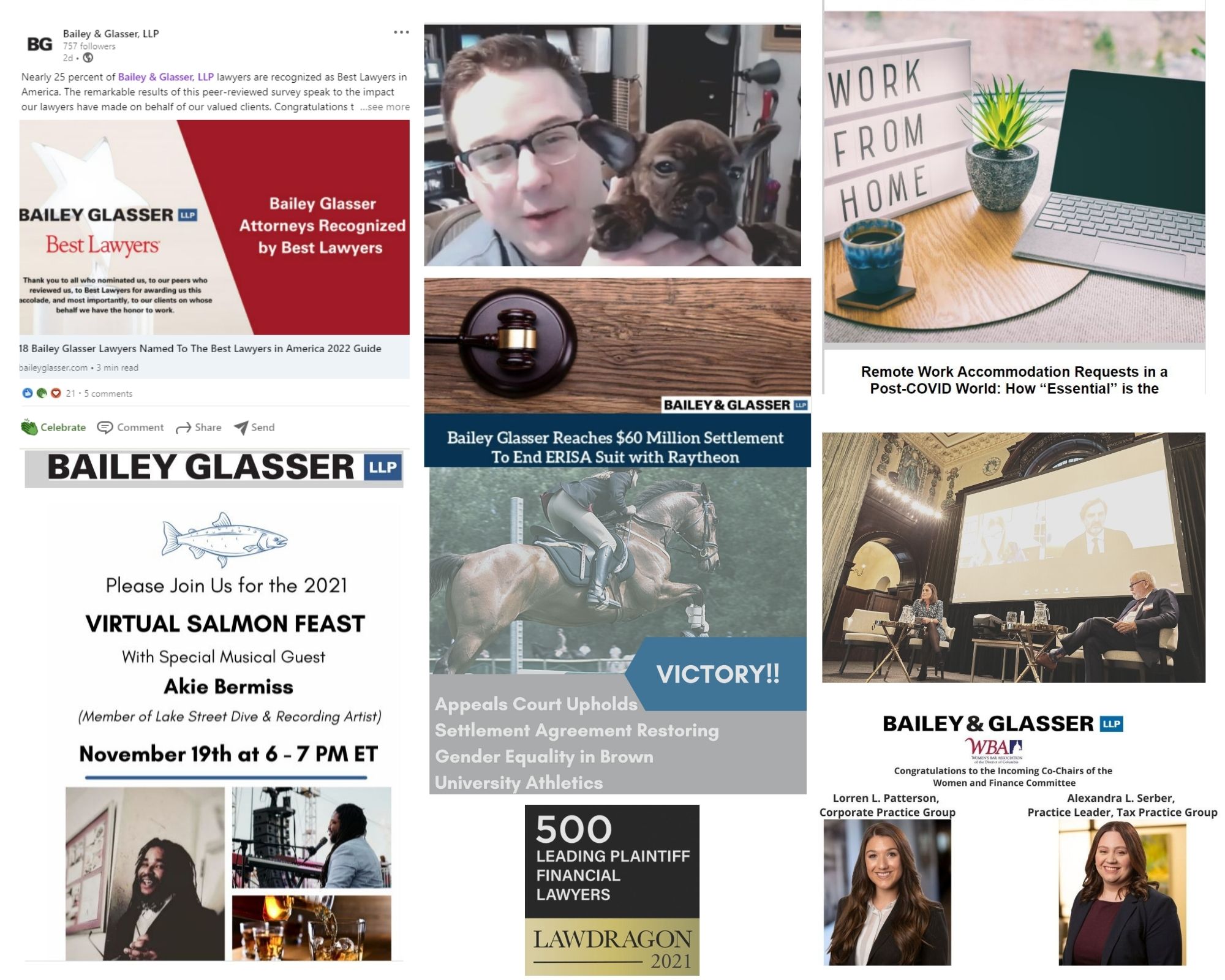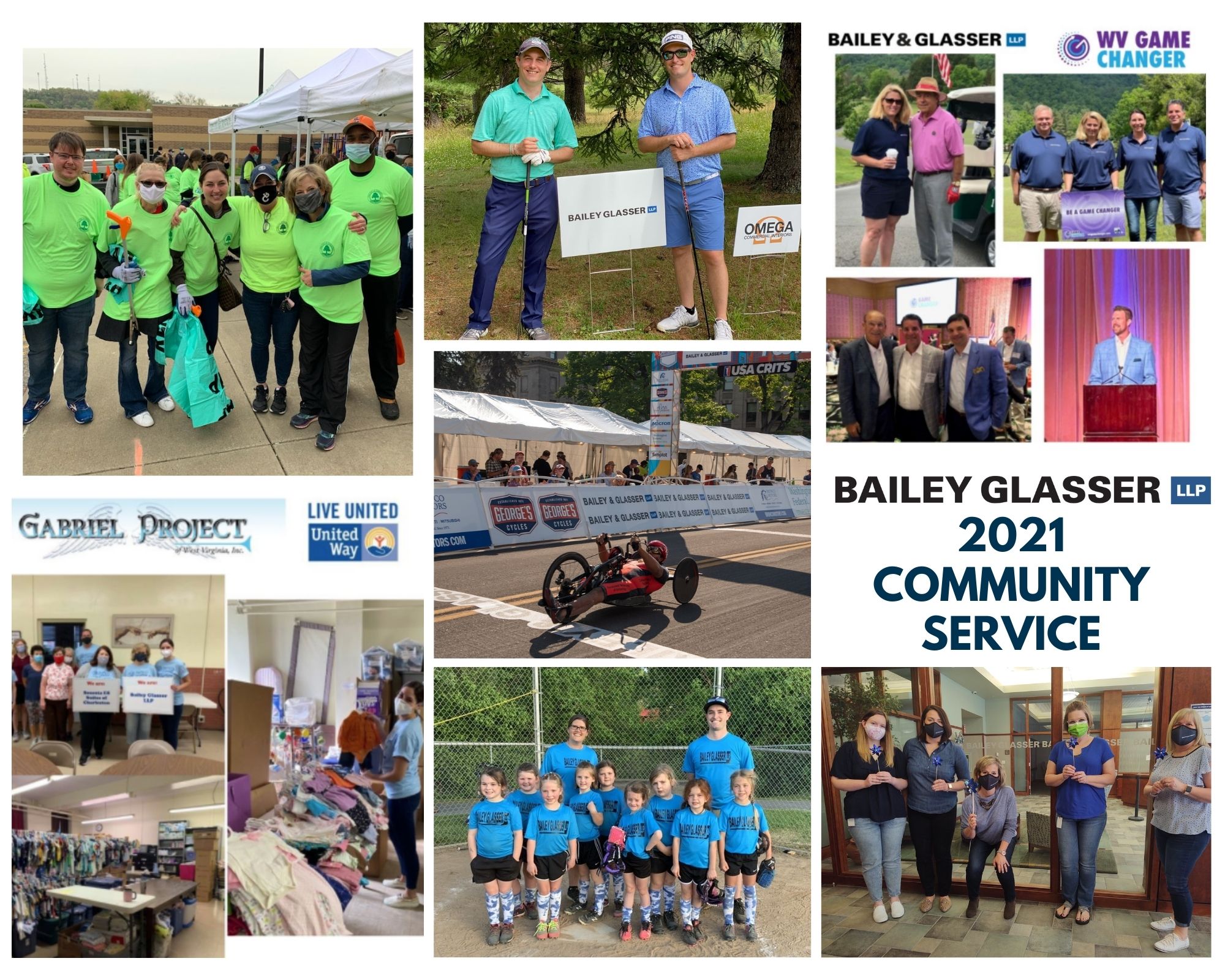 ---
Recent News & Alerts
---
Committed to Our Clients' Success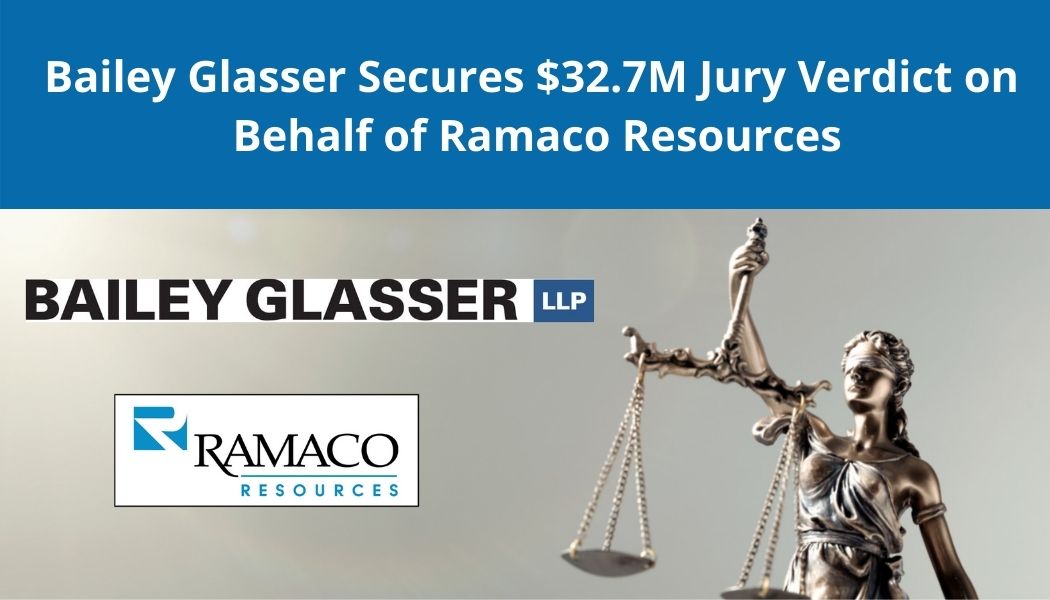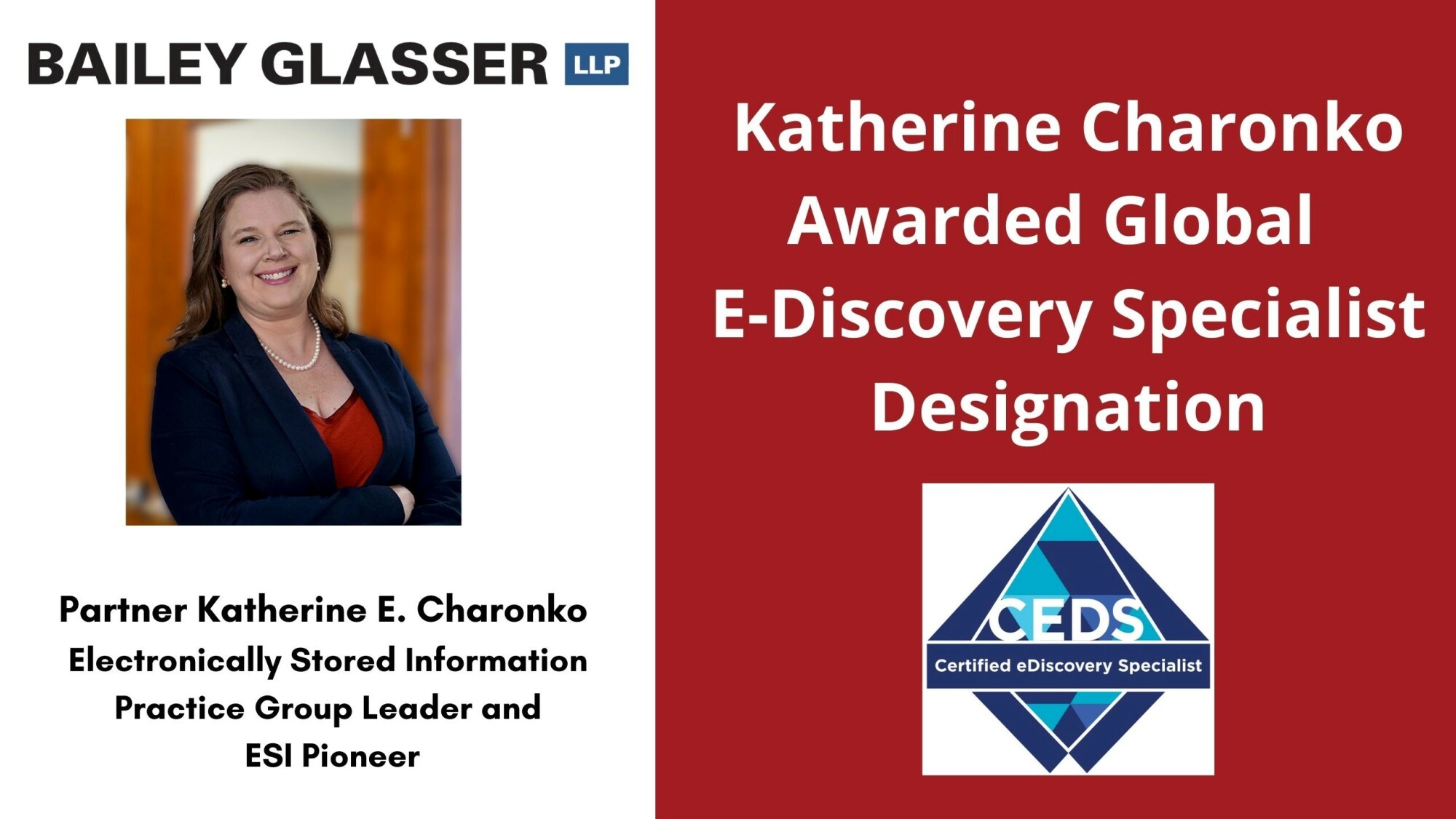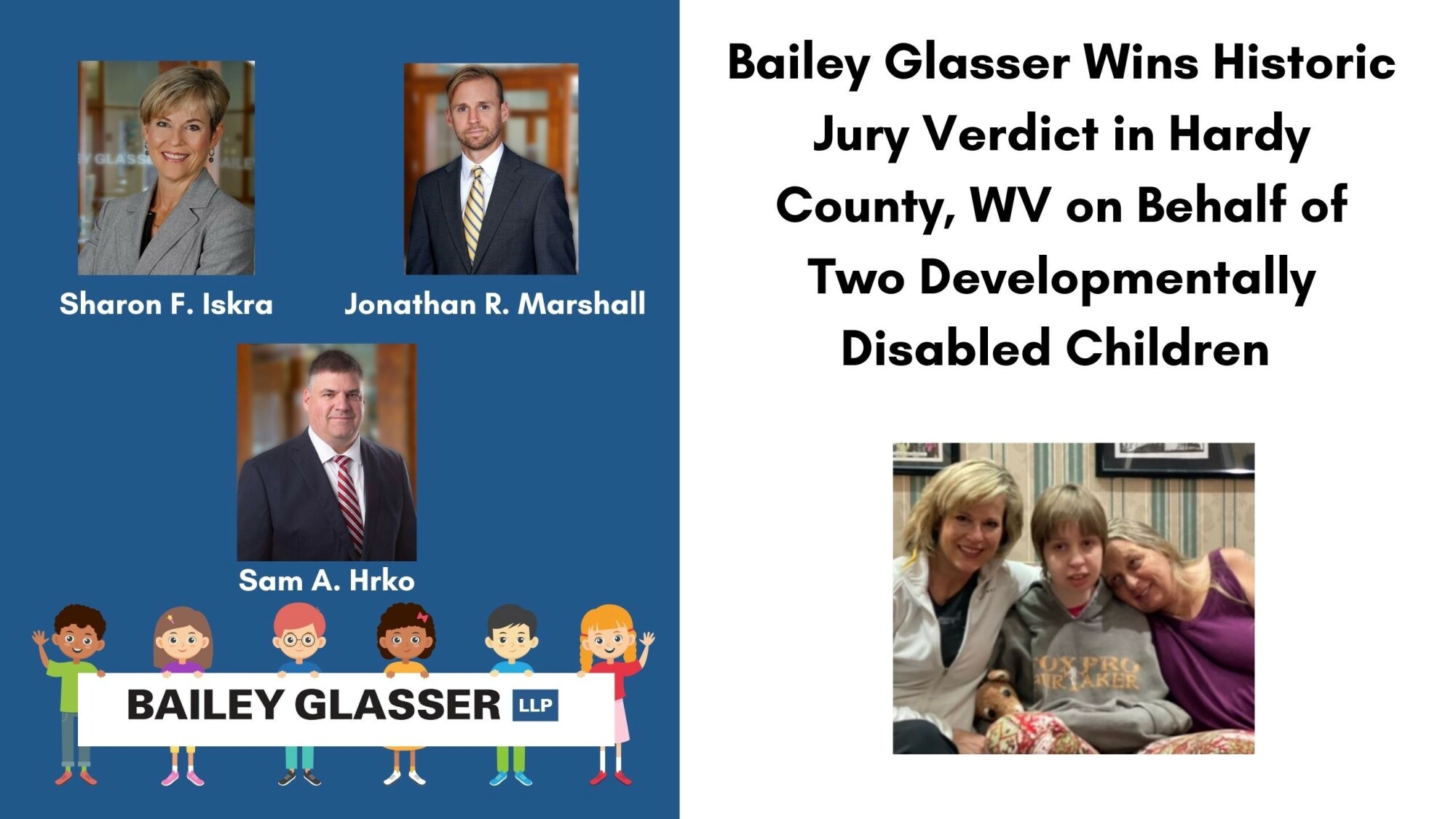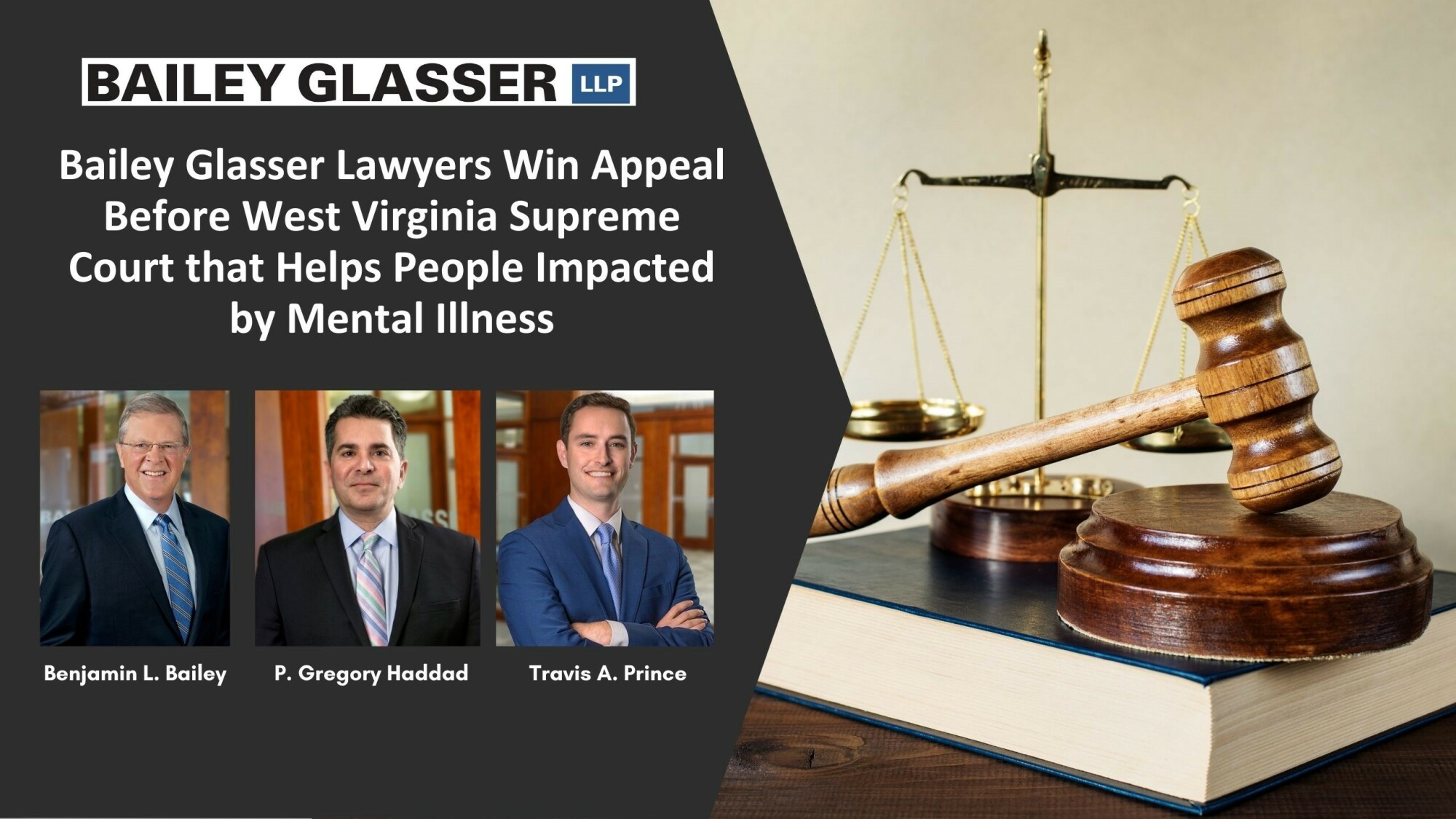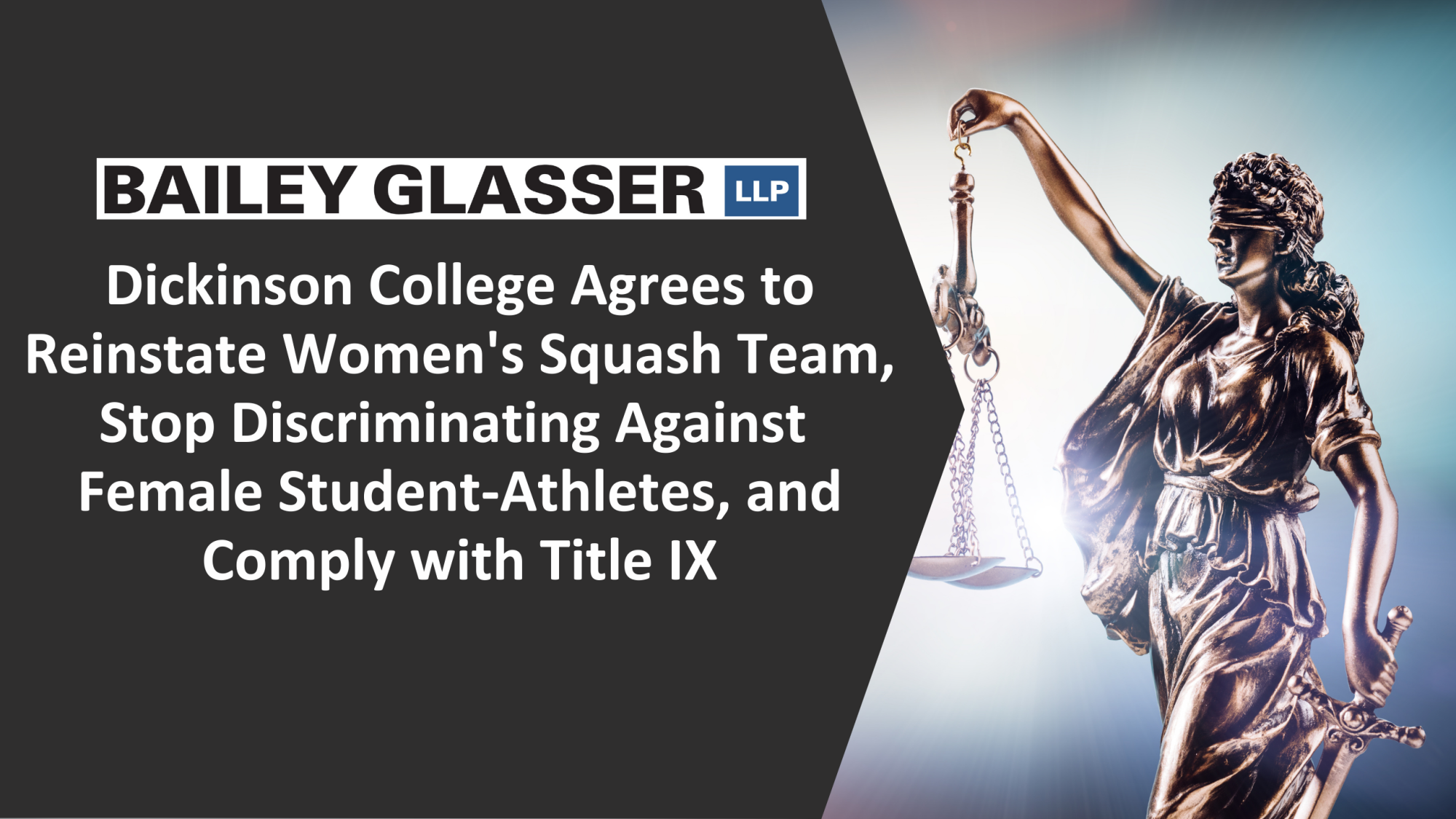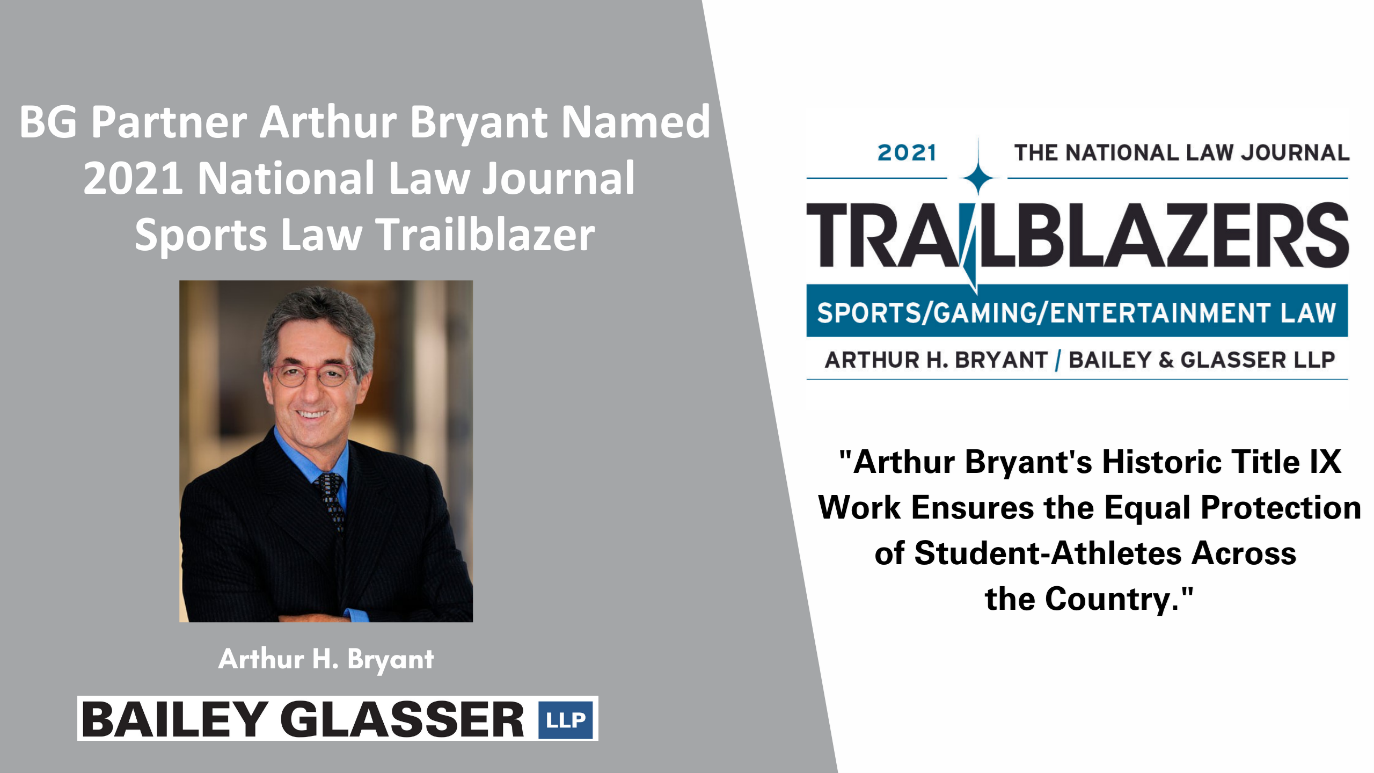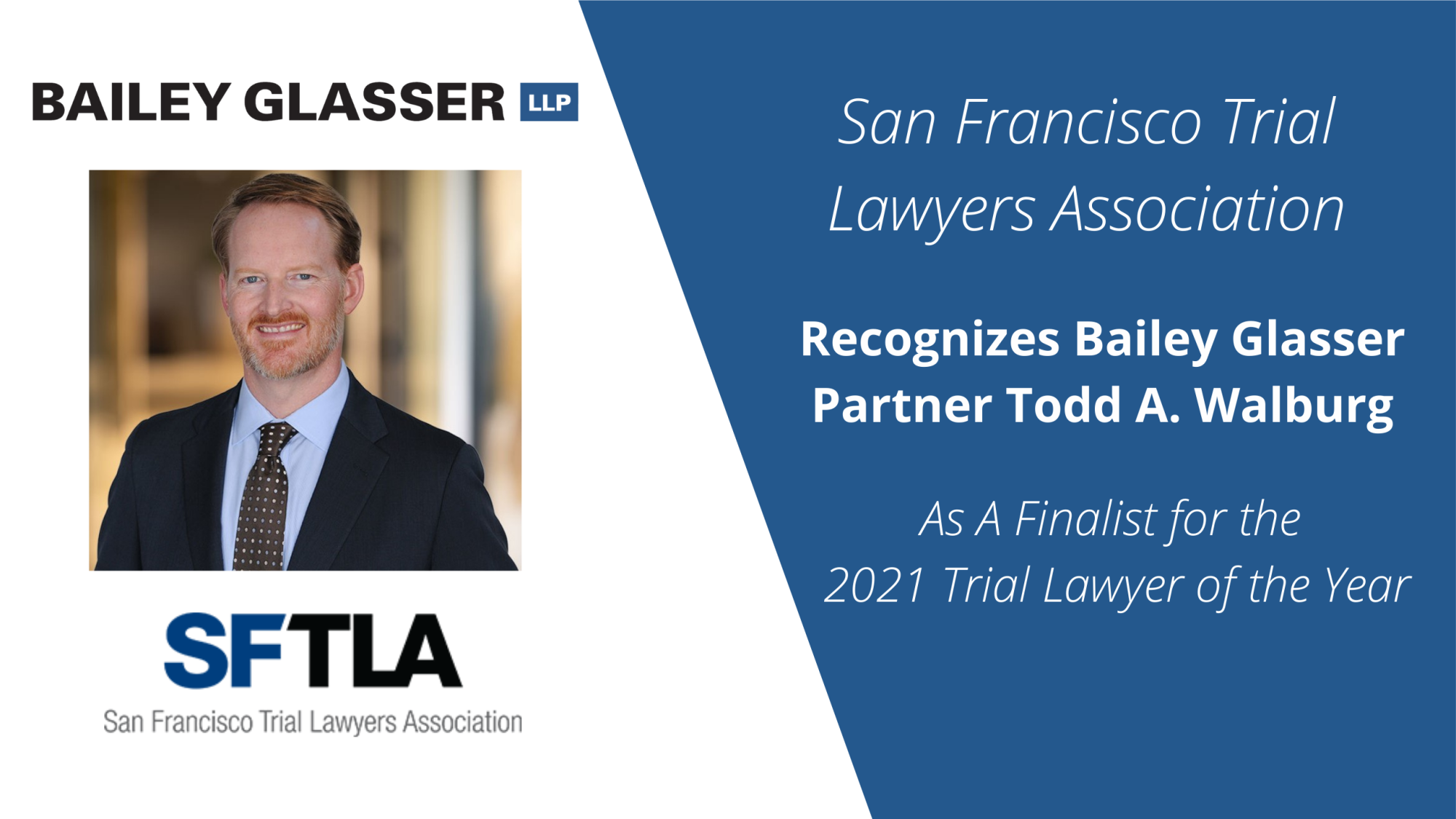 ---
2022 Elevations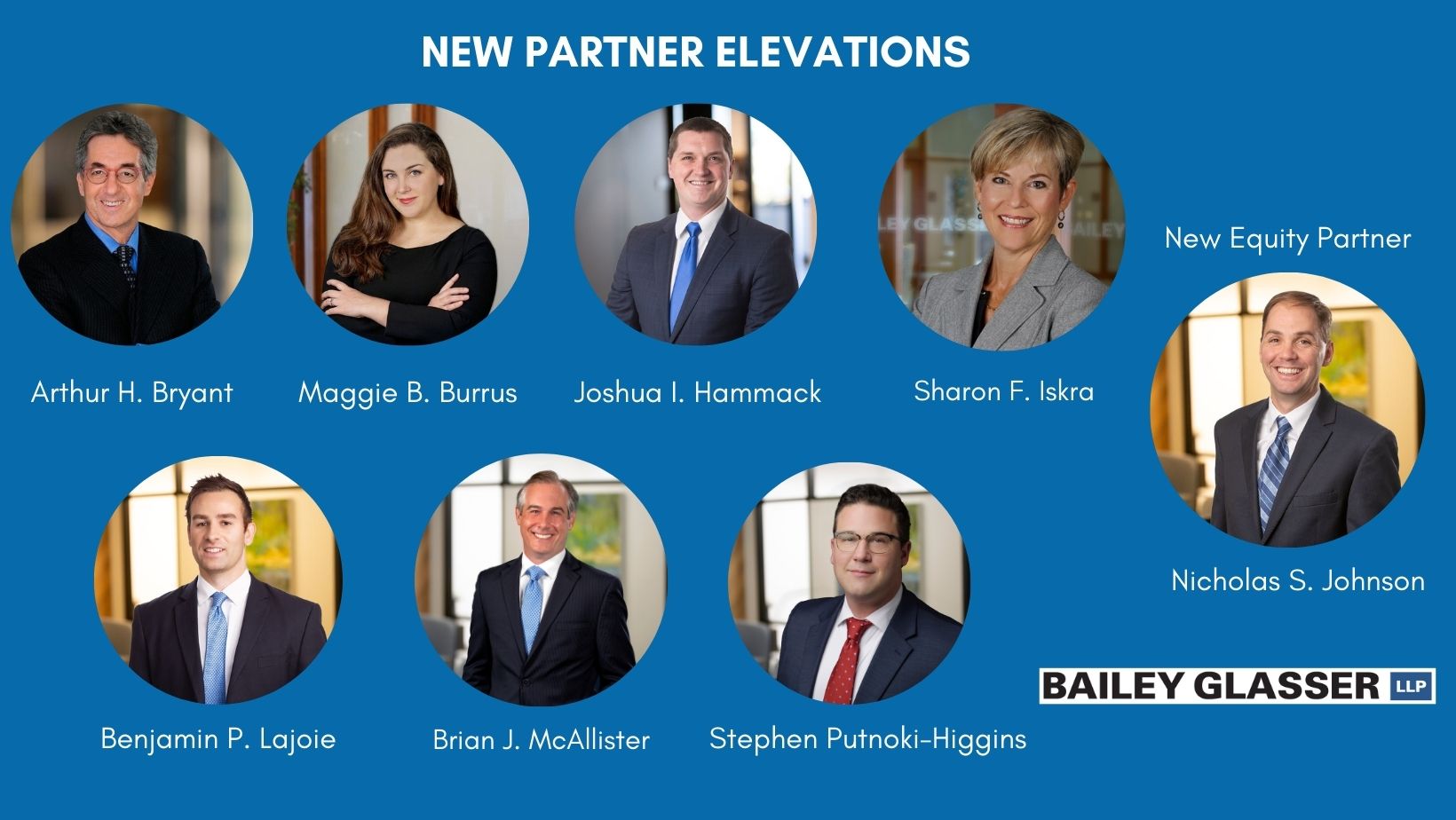 Bailey Glasser announces seven new partners, and one new equity partner:
---
Mountain Stage Memories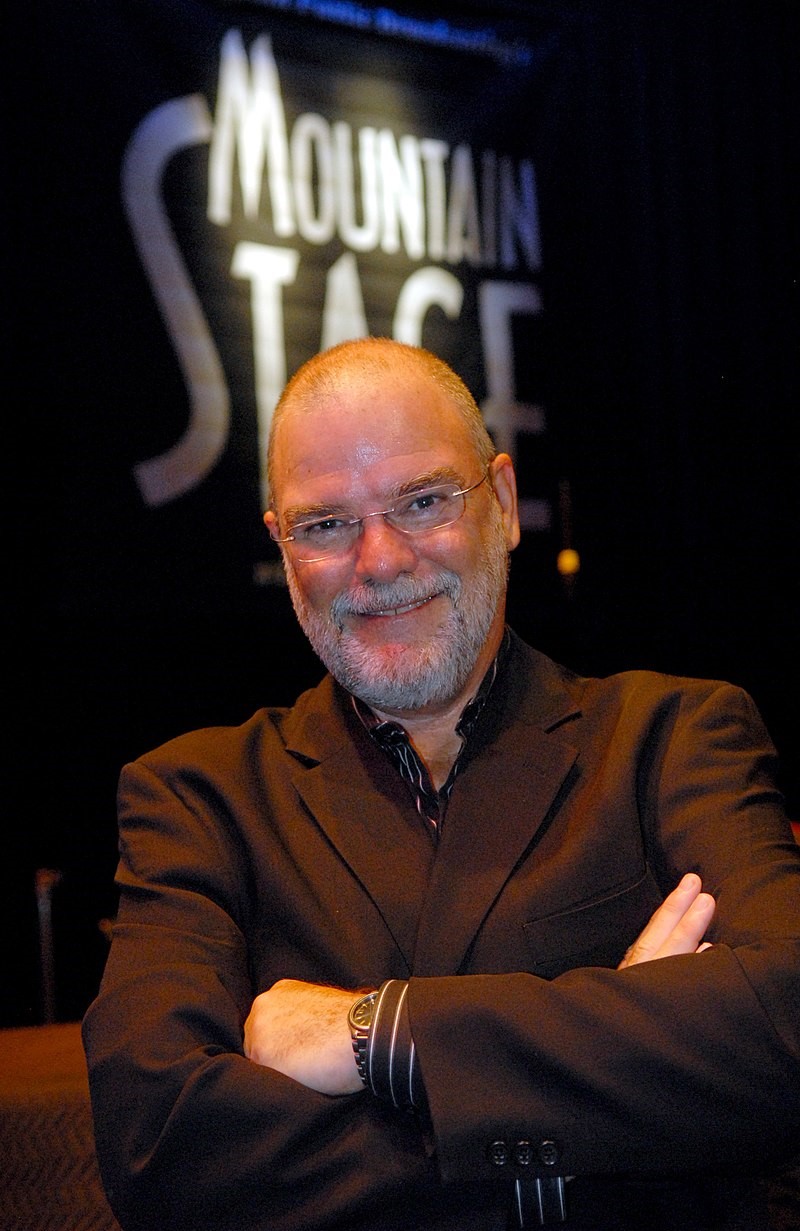 After 38 years and 950 incredible shows, Larry Groce recently announced his retirement as the host of National Public Radio's Mountain Stage. While Larry will continue as the show's artistic director, Grammy award-winning recording artist and West Virginia native Kathy Mattea will be Mountain Stage's new voice behind the mic. BG is a proud longtime sponsor of the program. Produced live in West Virginia, Mountain Stage can be heard on more than 240 public radio stations across America, worldwide via NPR Music, and at mountainstage.org.




---
Client Alert: Remote Work Accommodation Requests in a Post-COVID World: How "Essential" is the Office Anyway?
by Jaclyn S. Clark, Labor & Employment Practice
After nearly two years of having the flexibility to work from home, it's not hard to understand why many employees are reluctant to return to the "old ways" of business casual attire, hour-long commutes, and five days per week in-office from 9-to-5. Many employers, however, are more eager than ever to get their employees back into the office — and generally, that's the employer's call to make.
While this inevitably means many employees may have to begrudgingly face the reality of squeezing themselves back into their pre-pandemic work pants and schlepping back to the office at some point soon, for some employees it isn't that simple. While employers generally have the right to implement whatever sort of in-person attendance or return to office policies they feel are appropriate for their workforce, exceptions to such policies may sometimes need to be made for employees who request remote work accommodations for legitimate medical or disability-related reasons. Read on
---
New Videos
Please enjoy these new videos which highlight a recent webinar series and some of our practice areas.

Part One - Raising Capital & Staying Compliant: It's Not Easy Being Green
Part Two - Raising Capital & Staying Compliant: It's Not Easy Being Green


FAQ: What Are My Options as a Veteran If I Believe I Have Received Faulty Medical Care?


FAQ: How Do I Know If I'm Getting Adequate Medical Testing, Treatment, and Care?


Get Updates From Bailey Glasser