Bailey Glasser Newsletter May/June 2021
06.17.2021
Welcome to the May/June issue of our Bailey Glasser newsletter. There is a lot going on here at BG, and we appreciate the opportunity to share our alerts, news, invitations, and community activities with you.
This month's newsletter includes:
An invitation to our upcoming webinar series, "Got an App for That?" about how to launch an app and take advantage of a $100b market
News about two historic Title IX settlements with Clemson University & the University of St. Thomas
News about BG Partner Jonathan Marshall being named President of the West Virginia Association for Justice
A client success story achieved during Asian American Pacific Islander Heritage Month
BG giving back to our communities; and more (including recent webinar replays).
---
CLIENT ALERTS & NEWS
University of St. Thomas in Minnesota Agrees to Reinstate Women's Tennis Team, Develop Gender Equity Plan, and Comply with Title IX
---
Chambers and Partners USA Honors Bailey Glasser Lawyers in 2021 USA Guide
---
Bailey Glasser Lawyers Recognized for Inclusion in 2021 Super Lawyers List
---
"Glaring Flaws": U.S. District Court Rejects Proposed Class Action Settlement of Future Roundup Claims
---
West Virginia Supreme Court Affirms Lower Court's Ruling on Denial of Motion to Compel Arbitration
---
Maryland Sees Green With the Nation's First Digital Advertising Tax
---
Law360: Buyback Padded Founders' Pockets, Travel Co. Workers Say -- BG Partner Greg Porter is quoted related to a complaint filed by BG on behalf of participants in the World Travel Inc. Employee Stock Ownership Plan (ESOP).
---
Bloomberg Law: In-House 401(k) Fund Suits Cost Financial Companies $430 Million -- BG Partner Mark Boyko is quoted discussing how lawsuits against companies that put their own financial products in employee 401(k) plans have garnered more than $430 million in settlements since 2015, including multiple cases brought by Bailey Glasser's ERISA department.
---
NPR Podcast: Leveling the Playing Field - The Indicator from Planet Money -- BG's Arthur Bryant was interviewed in this excellent podcast describing how Title IX was created to give equal opportunity across all collegiate athletics.
---
---
BG Partner Jonathan Marshall Named President Of West Virginia Association For Justice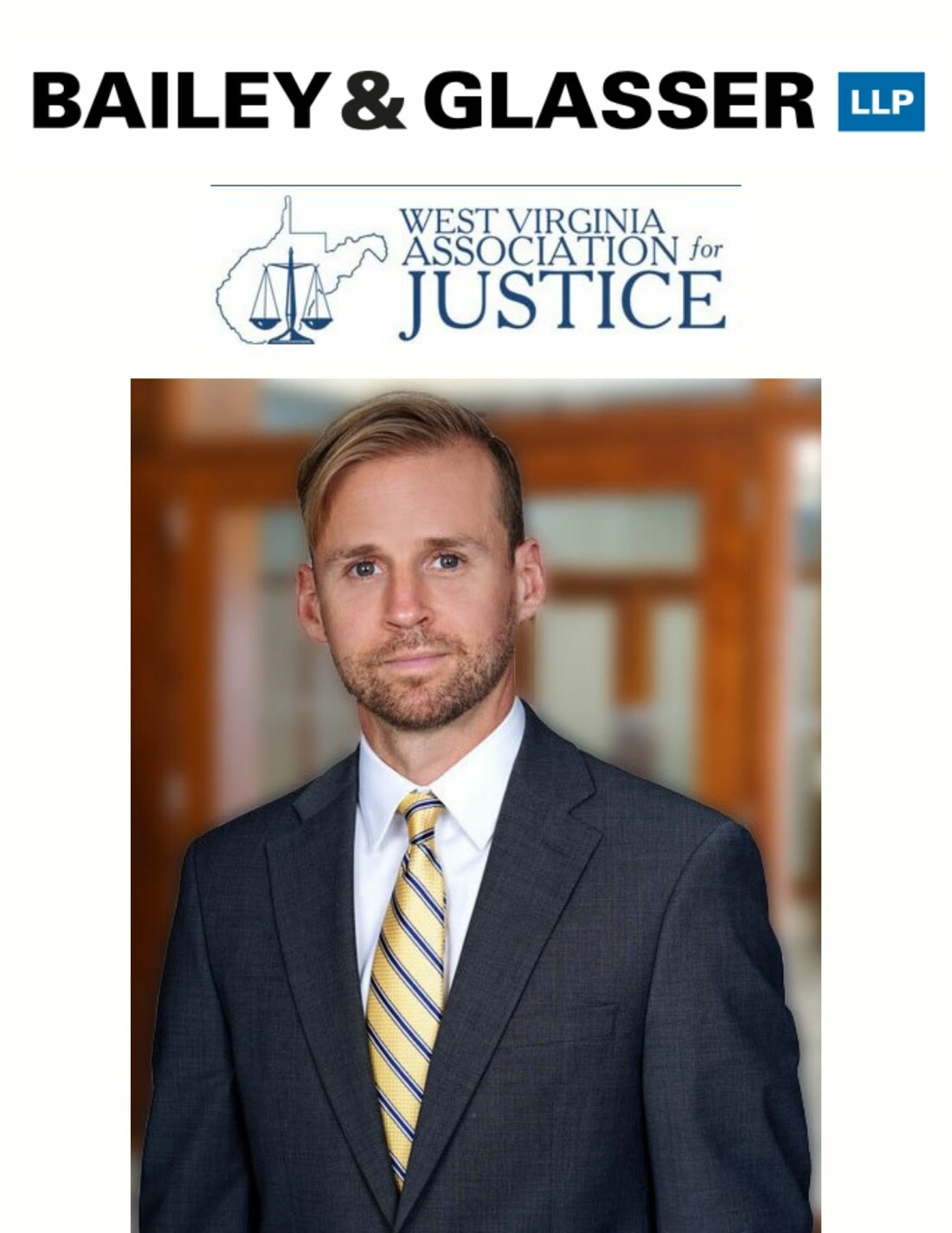 Congratulations to BG Partner Jonathan Marshall for being named President of the West Virginia Association for Justice (WVAJ). For many years, Jonathan has led numerous different federal and state mass tort and class action litigations throughout the state of West Virginia and the country. His guiding principle in his legal practice has always been to fight for consumers having access to a fair and equal justice system.

Said Jonathan: "It is a true privilege to serve as president of the West Virginia Association for Justice and to be of service to the West Virginians our association members serve. I look forward to continuing to grow and improve our association, so our talented members have the information and resources they need for their practices and their clients."
---
BG Wins Historic Title IX Settlements With Clemson University & University of St. Thomas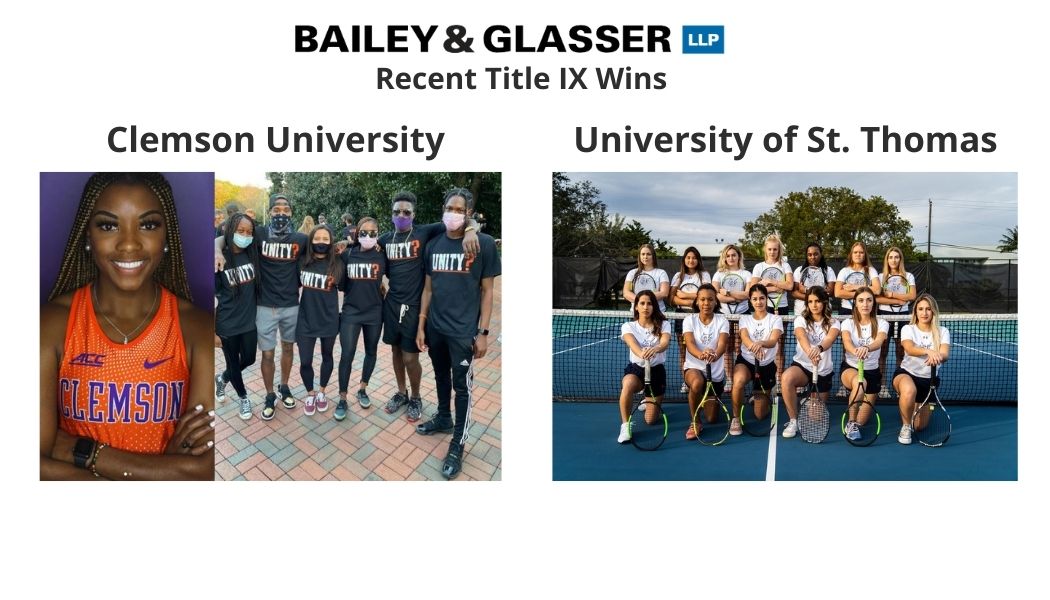 Facing class actions from both male and female student-athletes for violating Title IX by discriminating against them in different ways, Clemson University agreed to a few historic settlements. The university agreed to reinstate its men's track & field and cross-country teams and give men equal opportunities to participate; provide women with equal athletic financial aid, treatment, and benefits; work with an outside Monitor to develop a Gender Equity Plan; and bring all aspects of its intercollegiate athletics program into compliance with Title IX.

Congratulations to the BG team who made this happen, including Arthur Bryant, Cary Joshi, Joshua Hammack, Britney Littles, Elliott McGraw, Elizabeth Ryan, Nicole Ballante, and Laura Babiak. This settlement received significant coverage in the press including in Ms. Magazine, Inside Higher Ed, The Business of Sports Podcast, and Sportico.

In a very similar Title IX case, on June 17, we secured a settlement agreement with the University of St. Thomas in St. Paul, Minnesota after the university had previously announced plans to cut their women's tennis team. But after we threatened a class action lawsuit over Title IX violations, the university agreed to reinstate its women's tennis team, develop a gender equity plan, and come into full compliance with Title IX. Three cheers to Arthur Bryant and Cary Joshi for leading the charge on this case.
---
Celebrating AAPI Client Success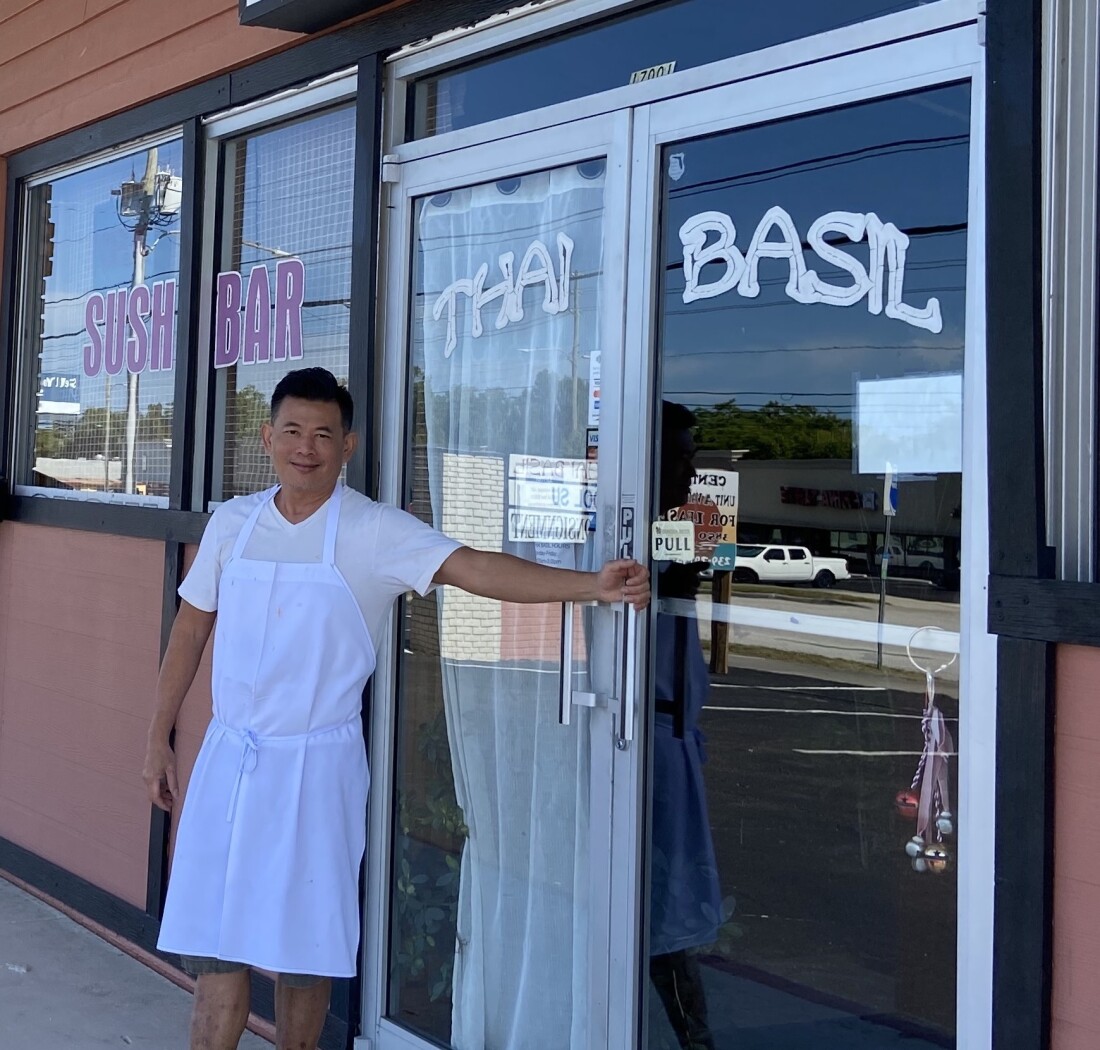 In May we celebrated Asian American and Pacific Islander Heritage Month, and as part of our celebration here at BG, we congratulated BG clients Mr. and Mrs. Sihapanya, the owners of Thai Basil Restaurant in Largo, FL, on the purchase of the retail strip center where they have operated for the past 18 years. Mr. and Mrs Sihapanya immigrated to the US from Laos as young children under very challenging circumstances. They have built a highly successful business and achieved the American dream of owning their restaurant building. We were very honored to represent them in this transaction and help them realize their dream. Check out their remarkable story that appears in the St. Pete Catalyst.
---
BG Lends A Helping Hand
On April 24, BG team members Sharon Iskra, Carrie Smith, Alexandra Shulz, Hollis Lewis, and Chris Smith participated in a "Team Up to Clean Up" event in Charleston, WV.
---
Thank You For Attending!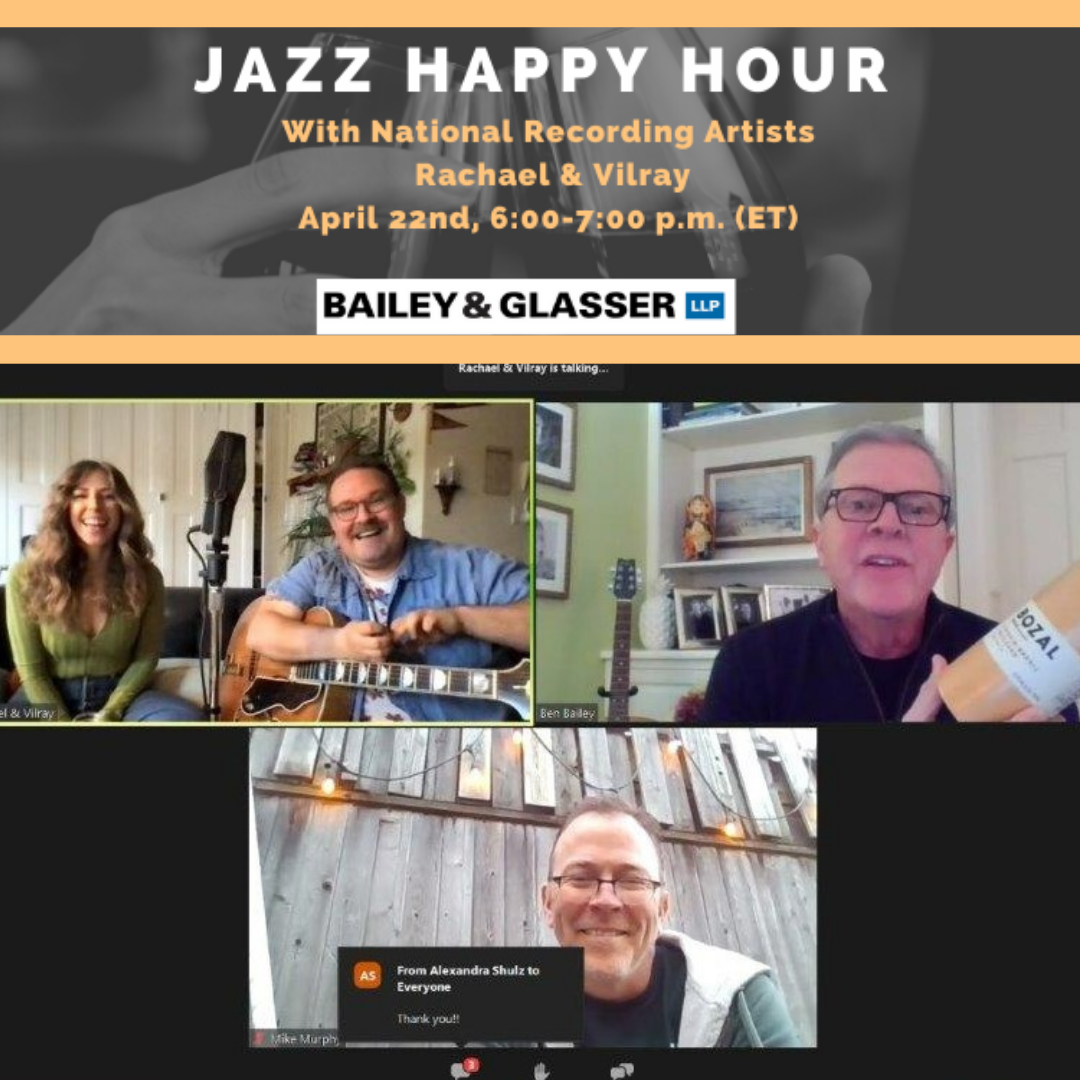 On April 22nd, we hosted a virtual "Jazz Happy Hour" national recording artists Rachael & Vilray. As seen on The Late Show with Stephen Colbert and NPR's Live From Here, this special duo features Rachael Price, lead singer of the Top 10 Billboard Artist Lake Street Dive. It was a wonderful evening and thanks to everyone who attended. A special thank you to BG Partner Mike Murphy for helping organize this wonderful concert.
---
How We Handle High-Stakes Matters
---
RECENT WEBINARS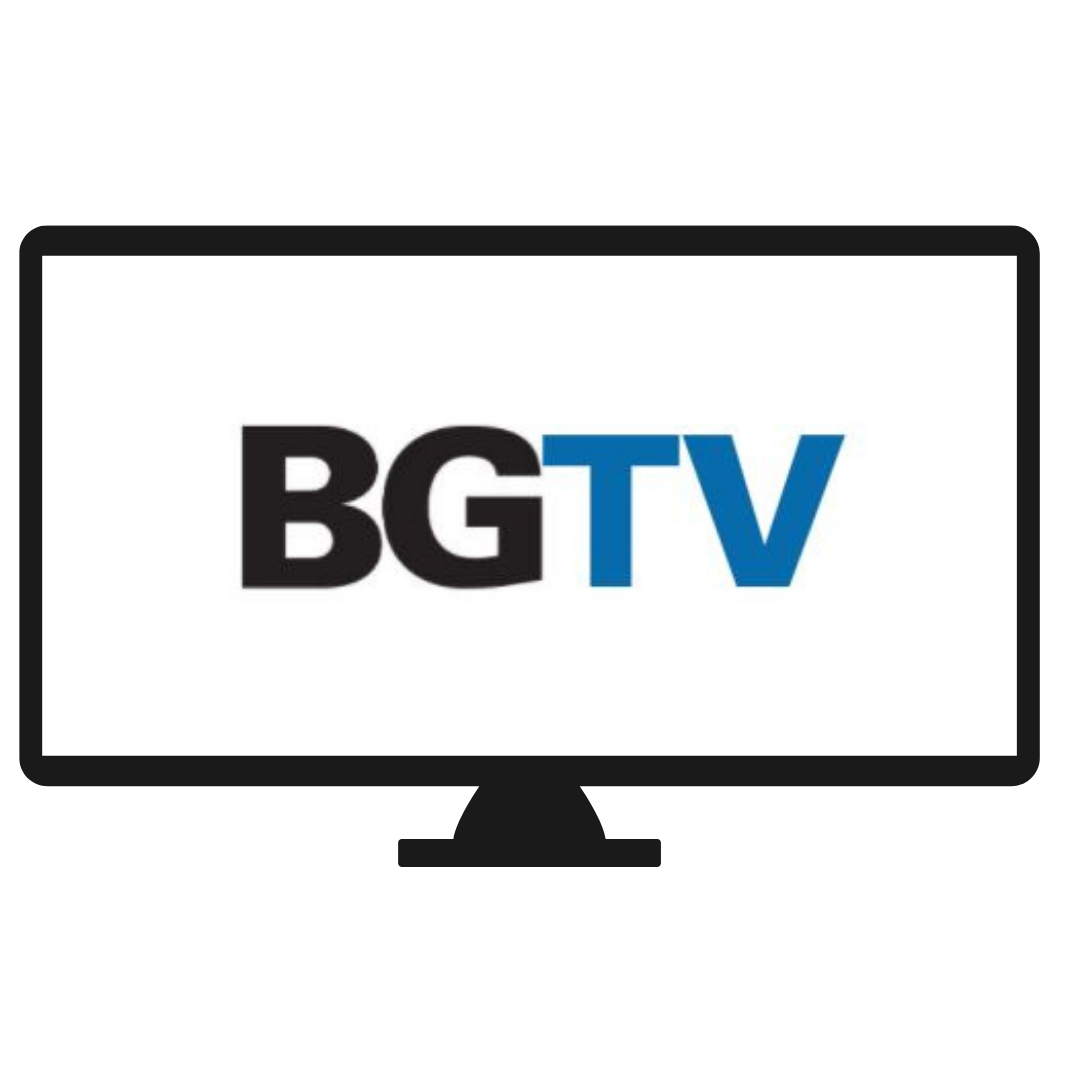 "COVID, CARES, and Biden, Oh My! Preparing Your Proactive 2021 Tax Strategy" with Tax lawyer Alexandra Serber (1/28/2021)

"FORTNITE TO FORTUNE HUNTERS: Examining the Billion Dollar Esports Industry" with BG lawyers Carlos Duque and Jacob Steffey (2/8/2021)


"How the American Rescue Plan Will Impact the Shuttered Venue Operators Grant (SVOG)" with BG lawyers Alexandra Serber, Marc Weintraub, and Michael Murphy (3/12/2021)


"The Very High Cost of Low (Or No) Insurance: Underinsured and Uninsured Motorist Coverage - What You Need To Know To Protect Your Family" with BG partner Sam Hrko (3/17/21)


"Not In My House: Keeping Children and Teens Safe From Online Predators" with BG lawyer Sharon Iskra (3/25/21)



---
MEET THE FIRM AND HEAR FROM OUR CLIENTS
---
Copyright © 2021, Bailey & Glasser, LLP, All rights reserved.

DISCLAIMER & PRIVACY POLICY
All Rights Reserved. No distribution or reproduction of this publication, or any portion thereof, is allowed without written permission of Bailey & Glasser, LLP except by recipient for internal use only within recipient's own organization.

This communication is provided by Bailey & Glasser, LLP for educational and informational purposes only and does not constitute the rendering of legal counseling or other professional services. No attorney−client relationship is created, nor is there any offer to provide legal services by the distribution of this publication.

The information contained in this communication is provided to alert you to a legal or tax development and should not be considered legal or tax advice. It is not intended to and does not create an attorney-client relationship. Specific questions about how this information affects your particular situation should be addressed to one of the individuals listed or to your legal or tax advisor before taking any action based upon this information.

No representations or warranties are made with respect to this information, including without limitation, as to its completeness, timeliness, or accuracy, and Bailey & Glasser, LLP shall have no obligation to update this information and shall not be liable for any decision made in connection with the information. IRS Circular 230 Notice: the information above is not intended or written to be used as tax advice, nor can it be used for the purpose of avoiding penalties under the Internal Revenue Code. The choice of a lawyer is an important decision and should not be based solely on advertisements.

Attorney Advertising.

Our mailing address is:
Bailey & Glasser, LLP
209 Capitol Street
Charleston, WV 25301
Get Updates From Bailey Glasser